ELIAS MODERN DICTIONARY
ENGLISH-ARABIC
by Elias A. Elias and Edward E. Elias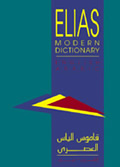 Since it was first published, Elias Modern Dictionary has been in the forefront of contact between English and Arabic languages and cultures. This highly reliable reference remains an indispensable tool for students, translators and lexicographers of both languages.
The Elias Modern Dictionary reflects recent developments in various fields of knowledge, including updated English vocabulary and idioms. Arabic counterparts are chosen with care and accuracy to portray the wealth of classical literature and its legacy, as well as the contemporary language steeped in modern culture and everyday colloquialisms of the Arab World and particularly Egypt.
More than 64000 entries
Line illustrations
912 pages
17x25 cm
Hardback: ISBN 977-5028-29-9