For 90 years now, Elias dictionaries have enjoyed an enduring reputation for reliability, accuracy, and clarity and have been valued by millions of language learners worldwide.
In 1913 Elias Antoun Elias published the first edition of the Modern English-Arabic Dictionary, which he had compiled over the preceding years. Establishing the Modern Press in 1933, Elias continued to publish an ever-growing list of bilingual dictionaries as well as an extensive series of Arabic translations.
In 1952 Edward Elias succeeded his father and undertook the continuous process of updating and revising the Modern Dictionary, now in its 26th edition. Known as the Elias Modern Publishing House since 1976, the company is now run by Elias Antoun's grandchildren, who continue to uphold the family tradition.
A spirit of innovation parallels Elias's time-honored commitment to tradition. Several new dictionaries are being compiled by a staff of Egyptian and foreign lexicographers, and the company is also establishing a strong presence in the educational field with the publication of fiction and non-fiction books for children and young people.
The company expanded considerably after the establishment of Elias Modern Press in 1987, which has already gained an outstanding reputation for quality in the printing of books, magazines, posters and brochures, and the founding of Sahara Printing Company in 1995, a new print house situated in a tax free zone to better serve international demand.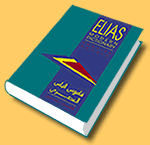 Elias Modern Publishing House
Nadim Elias, Chairman
Laura Kfoury , Managing Director
© Elias Modern Publishing House 2005
contact: eliaspub@tedata.net.eg
10/10/2005 11:55
webmaster: ramel@zemargraphics.com