STRANGE WAR
by Martin Auer
Translated by Hala Sherif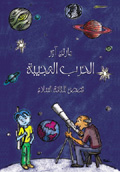 A collection of short stories for children written by the famous German author Martin Auer.
The theme is new, interesting and fits in with current world events.
The value of this book lies in its approach to the culture of peace. This is achieved through various fantasy worlds on other planets, where the characters are either people or imaginitive creatures created by the author.
The book content stimulates the child's imagination; taking him to a fantasy world; creating in his mind
his own figures and location.
The book enables the child to be aware of what is going on around him in today's world, It also raises questions about war and peace and indirectly suggests the answers.
104 pages
14x20 cm
Paperback: ISBN 977-304-102-6