SOLLY AND THE SACRED LAKE
by Susan Shenouda
Illustrations by Golo
Translated to Arabic by Rania Amin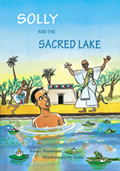 Do you ever think about where your water comes from? Solly didn't, until the day he had an accident and Ani saved him. An adventure begins where a magic amulet, a pharaoh and some half-men half-animal creatures come together to make Solly realize that things are not as simple as he thought.

14x20 cm
English edition:
72 pages
Paperback: ISBN 977-5028-81-7
Arabic edition:
64 pages
Hardback: ISBN 977-304-042-9