MONA AND THE TREE OF OSIRIS
by Susan Shenouda
Illustrations by Golo
Translated to Arabic by Rania Amin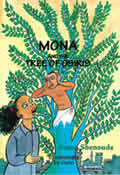 Mona and Sammy are siblings, who do not get along. One day they meet Sinouie, who is lost, afraid of cars and cannot breathe Cairo's polluted air. Can Mona and Sammy put aside their differences long enough to help him?

14x20 cm
English edition:
80 pages
Paperback: ISBN 977-5028-82-5
Arabic edition:
72 pages
Hardback: ISBN 977-304-044-5