FARHANA
by Rania Amin

WINNER OF THE SUZANNE MUBARAK
CHILDREN'S BOOKS AWARD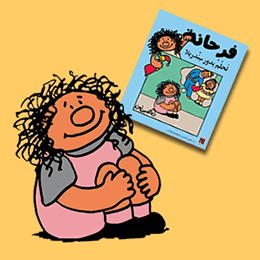 Farhana, a happy little girl of five, is a free spirit who dislikes restrictions and enjoys discovering everything for herself. Yet, her loving nature forbids her to hurt others or disobey grown-ups. So everyday, Farhana faces small problems that she is forced to solve in her own unique way.
In a society where child rearing and education are still based on many restrictive traditional and social rules, this series tries to restore children's self-confidence in their spontaneous feelings and behavior. Children will easily identify with Farhana and recognize that being unique and making mistakes are nothing to be ashamed of.
12 pages, 14x16.3 cm, Hardback and Paperback